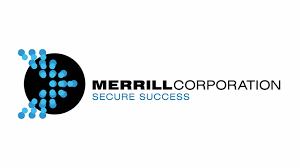 Pricing:
Homepage:
Rating:
Company Profile
Merrill Corporation is one of the largest enterprises, with thousands of workers and multiple locations worldwide. Merrill DataSite focuses on diverse document management und communication services. Most business people who use a data room from Merrill DataSite work in the financial, legal or corporate field.
With this provider you can be sure to have a secure dataroom, where all the sensitive documents and files can be uploaded and shared. They offer a demo version to test your own individual data room. You can freely change documents and settings till your data room goes live. According to Merrill DataSite the interface is very easy to use and doesn't need additional training – so even non IT experts are able to handle the virtual data room.
If you however come across any problems you can contact support 24/7 throughout the year. Besides that the virtual data room is not quite able to be displayed on mobil devices, although Merrill DataSite is very eager to always bring out the best product for their users.
---
Features of Merrill DataSite virtual Dataroom:
Document Security
256-Bit SSL encrypted
Tamperproof and customized watermarks
Data can be viewed, printed and downloaded only by the users you designate
Virus Scanning
Document Expiry
Access Security
256-Bit SSL encrypted
Tamperproof and customized watermarks
Data can be viewed, printed and downloaded only by the users you designate
Virus Scanning
Document Expiry
User Interface
Multiple Languages
Multi-Term Searches
Drag and Drop Files
Bulk Uploads
Scroll-Through Viewer
Access
Multi-Language Support
Mobile Device Interface
Audit & Reporting
Real-Time Tracking and Reports
Audit Logs
Automatic Audit Reports
Document Version Control